DISPLAYS PORTATILES PARA FERIAS Y EXPOSICIONES
Descubre el potencial de tu estrategia de marketing en ferias comerciales con nuestros displays de alta calidad para ferias y exposiciones comerciales. Eleva la presencia de tu marca en tusb próximos eventos a través de nuestras herramientas visualmente convincentes, estratégicamente diseñadas para mejorar tu experiencia en ferias comerciales. ¡Descubre nuestros stands  hoy y asegúrate de que tu marca destaque como la estrella del espectáculo!
BANNER STANDS AND DISPLAYS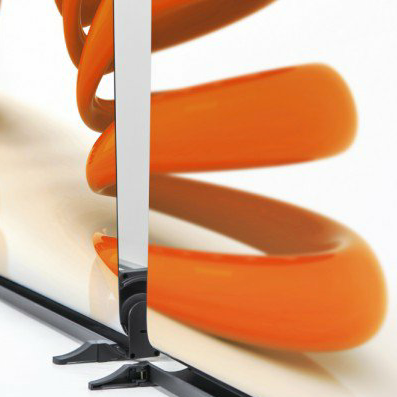 Maximize Your Banner Stand Portable Display with TigerLink
TigerLink combines the ease of a retractable banner stand with the sleek aesthetics of a seamless graphics wall, offering you the ultimate solution to elevate your display game. With its unique feature of field-replaceable graphics, TigerLink empowers you to effortlessly customize and adapt your visuals to cater to diverse audiences. Whether it's trade shows, events, or indoor presentations, TigerLink is your ideal companion for making a lasting impression. Get more from your next display and choose TigerLink today!
Tailored Banner Stands to Suit Your Precise Requirements
Discover banner stands meticulously crafted to align with your unique needs. Our diverse range includes premium, mid-range, and budget-friendly options, such as retractable banners, pop-up banners, telescopic stands, and versatile spring-back or X-banners.
If you demand quality, advanced functionality, and unwavering durability in your next investment, look no further. Visit our Banner Stands section to explore the perfect fit for your display requirements. Alternatively, reach out to us via email, and our dedicated customer service team will promptly get in touch to assist you in making the right choice. Your satisfaction is our priority.
Pop up Trade show Displays
Unlock the Power of Portable Pop-Up Displays
Our pop-up displays redefine convenience and versatility, offering tool-free assembly for effortless setup. These portable solutions are not only durable but also incredibly user-friendly. With a choice between full graphics back walls or Velcro receptive fabric panels, you have the flexibility to tailor your display to your specific needs.
Explore our comprehensive range of accessories, including case-to-counter conversion kits, shelves, monitor mounts, and more, to take your pop-up display to the next level. Elevate your exhibiting experience with our pop-up display systems – where simplicity meets impact.
Tension Fabric, stretch fabric Pop up trade show Displays
Elevate Your Brand with Tension Fabric Pop-Up Displays and Stretch Fabric Trade Show Exhibits
When it comes to making a lasting impact, our Tension Fabric Pop-Up Displays and stretch fabric trade show exhibits are the ideal solution. These displays offer maximum visual appeal, ensuring your brand stands out in the crowd.
Our Tension Fabric Displays come in various sizes and configurations, including straight or curved frames, with or without endcaps, providing you with versatility to suit your unique needs. Assembly is a breeze, as these displays require no tools, and they are incredibly lightweight and portable. Plus, they pack up easily, ensuring you're always prepared to make a memorable impression at your next trade show. Don't miss the opportunity to elevate your brand – choose our Tension Fabric Displays for maximum impact!
SEG (Silicone Edge Graphic) Displays
Experience Elegance with Silicone Edge Graphics Displays
For a collapsible portable display solution that exudes elegance and delivers a remarkable visual impact, look no further than Silicone Edge Graphics (SEG) Displays. These SEG Fabric Displays are available in a variety of sizes and configurations, with or without endcaps, ensuring you have options to match your specific requirements.
The beauty of SEG displays lies in their tool-free assembly, making setup a breeze. They are also lightweight and highly portable, allowing for easy transport and quick installation. With the simple act of pushing and fitting fabric graphics, you'll be all set to make your brand shine at its best. Elevate your presentation with SEG Displays for a sophisticated and attention-grabbing presence.
Trade Show Displays Portable
Waveline Portable Displays and Banners
Experience the ultimate in convenience and impact with our Waveline portable trade show displays and banners. Designed for effortless setup, these displays are available in a wide range of configurations, including 8′, 10′, and 20′ Straight, Horizontal Curved, Vertical, and Curved back walls.
The secret to their captivating appearance lies in their pillowcase Dye-sub fabric graphics, which ensure your brand truly shines on the trade show floor. For a professional touch, consider our Tube and Fabric displays to enhance your event presentation.
Transporting your displays has never been easier thanks to the portable carry bag or case included with each setup. Make a statement at your next trade show with Waveline – where convenience, style, and impact converge seamlessly. Your brand deserves nothing less.
Modular Trade show Booths
Unleash Your Creativity with Customizable Portable Trade Show Displays
At our company, we empower you to take the reins and craft your own unique portable trade show display. With our modular system, you have the freedom to build a design that perfectly aligns with your brand's vision and objectives.
Our user-friendly pillowcase fabric graphics ensure a hassle-free setup, allowing you to focus on creating an eye-catching and versatile display that captures attention.
Explore our wall panel systems, where you can let your imagination run wild and build configurations that suit your exact requirements. Mix and match components to achieve the perfect look. Your trade show display should be as unique as your brand – start customizing today and make a lasting impression at your next event!
Discover an extensive range of top-quality accents and accessories available on our website to enhance your booth's functionality and visual appeal. Our selection includes literature racks, charging stations, tablet stands, table covers, monitor stands, and much more.
Give your trade show booth a personalized touch by incorporating custom printed modular additions like counters or accents that perfectly align with your brand's identity. These additions aren't just accessories; they are the key to making your brand truly rock on the trade show floor.
Explore our wide array of options, and let us help you accessorize your booth to perfection. Elevate your trade show experience with premium accessories that leave a lasting impression on your audience.